qʷiqʷəlut - Help us restore qʷiqʷəlut …10/15/2022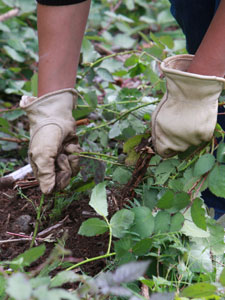 Activities
For 4+ years now, 350 Tacoma (with the support of City of Tacoma Environmental Services) have been working to restore qʷiqʷəlut, a long-neglected salt marsh located deep in the industrial Port of Tacoma, nestled between an oil terminal and a container shipping yard. We'd love your help!

Tools, gloves, and instruction will be provided. This event is open to people of all ages and abilities. Start your weekend off with some refreshing outdoor activity as we remove invasive weeds and restore native habitat.

Due to the ongoing COVID-19 pandemic, we are limiting the size of this event 15 people, so make sure to register and save your spot!
Open to the public
All ages OK
4 out of 20 participants registered.
What to Bring
Please dress in layers and in clothing that you don't mind getting dirty. Closed-toed shoes, long sleeves, and pants are recommended. Bring a full water bottle and snacks. Don't forget to bring your rain gear if rain is in the forecast.
Where to Meet
On Port of Tacoma Rd, the Salt Marsh is located one block north of Lincoln Ave. on the right hand (east) side. Look for the white Green Tacoma Partnership signs, orange cones, and sunflower signs. Try to arrive a little early if it's your first time and you should see us from the road.

Google Maps: click here
Where to Park
At the entrance to qʷiqʷəlut: click here

Additional parking is available a half block north on Maxwell Way.