Gog-Le-Hi-Te I - Help us restore Gog-Le-Hi-Te …12/10/2022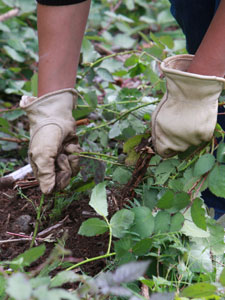 Activities
Join Forterra and the Port of Tacoma in continuing the beautification of Gog-Le-Hi-Te, the last estuary on the Puyallup River before entering Puget Sound. We've done tons of work here to remove weeds and plant, and now we want to weed and mulch to make sure all of our native plants have the best chance to make it through the winter.

Tools, gloves, and instruction will be provided. This event is open to people of all ages and abilities.
Open to the public
All ages OK
6 out of 20 volunteers registered.
What to Bring
Please dress in layers and in clothing that you don't mind getting dirty. Closed-toed shoes, long sleeves, and pants are recommended. Bring a full water bottle and snacks. Don't forget to bring your rain gear if rain is in the forecast.

Remember, it will probably be chilly, so bring warm shoes and a warm jacket!
Where to Meet
We will be meeting at the viewing platform.

Walk past the gate on the right (north) side of the parking lot, and walk about 100 feet down the service road parallel to Lincoln avenue.
Where to Park
Park in the parking lot: click here

If the parking lot is full, park along the small access road attached to the lot and parallel to the train tracks: click here